The IP4MaaS Team is happy to announce its first pilot will soon kick off in Athens! Launching on 11 July 2022 and taking place over two weeks, the Athens demo will focus on enhancing multimodality by proving journey planning and integrated ticketing through a single Travel Companion application. It is the first pilot in a series across Europe testing various forms of multimodal travel and functionalities.
Although there are multiple transport modes operating in the area for serving every day commuting travelers, there is limited connectivity at the level of the networks and the services. In order to stimulate collaborative business models among bike and ride-sharing, taxis, e-scooters service providers and operators, the demo aims to create a neutral data analytics platform that will define best matching for intermodal services, this way guiding the actors of the relevant ecosystems to determine customised MaaS solution packages.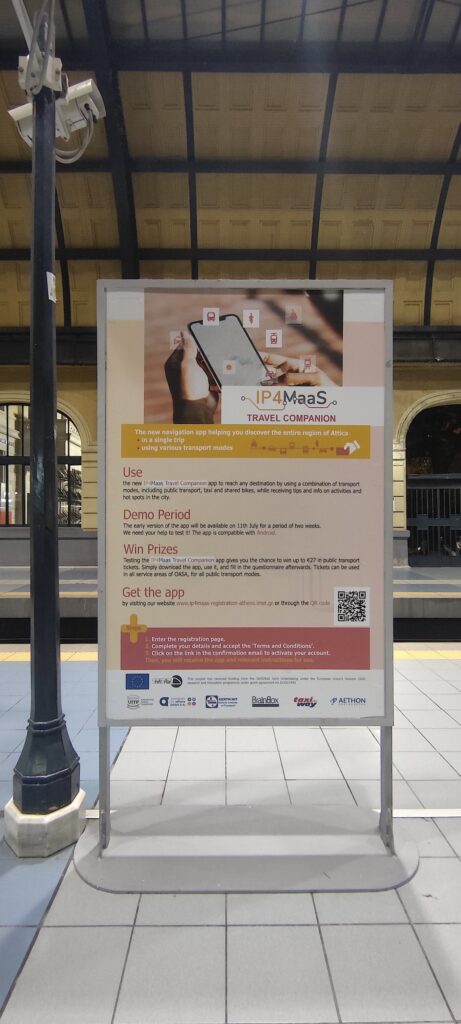 The pilot is led by CERTH/HIT, and supported by Greek project partners including public transport operator OASA, taxi company TAXIWAY, bicycle rental company BRAINBOX, the Municipality of Heraklion, as well as the AETHON consulting company.
"The Travel Companion App, tested in the IP4MaaS Athens demo, once optimised, will significantly contribute to the unification of the multiple modes of transport that are available in Athens in one platform, hence making everyday trips in the city more sustainable, flexible, efficient and environmental friendly, for both commuters and tourists. Athens will sustain this way its role as a major metropolis and a popular touristic destination". Anne Kortsari, Research Associate at CERTH
Participate in the pilot!
Are you located in the Athens region and do you want to help us testing the Travel Companion app? Register here, try the app from July 11 and evaluate it by answering the questionnaire at the end of the journey! Leaflets with more information are available here (in GR) and here (in EN).