From 14 to 17 November 2022, Lisbon transformed into the capital of transport research, when the TRA Conference opened its doors. TRA is an arena for researchers, companies and public authorities active in the field of transport, welcoming policy makers and all stakeholders framing research and transport policy. IP4MaaS was present, putting the focus on multimodality and MaaS with various activities held in conjunction with other research projects.
Putting multimodality at centre stage
On Wednesday, an event was held at the UITP stand together with sister project RIDE2RAIL. Focus of this side-event was on the demos of both projects, which are testing the Europe's Rail TravelCompanion and DriverCompanion app in cities across Europe. Partners involved in the Helsinki and Athens demo presented the (preliminary) outcomes of the tests and discussed challenges still to be tackled.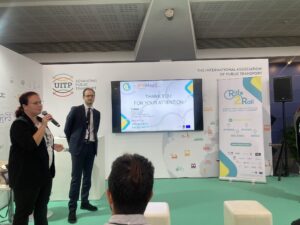 When discussing the topic of user engagement it was emphasised that identifying the right target groups, local dissemination activities and collaboration with universities is essential to get people on board. Or, as IP4MaaS partner Sparsity Technologies put it nicely: "In the end, if a travel application works well and makes it easier to get from A to B, people will ask for it themselves."
Data for multimodal mobility
The final IP4MaaS event at TRA was held together with RIDE2RAIL and the DATA4PT project, the latter aiming to advance the implementation of harmonised data standards to smoothen multimodal mobility in Europe. In the session 'Data sharing as an enabler for multimodality', representatives from the three projects discussed how the power of data can best be leveraged to enable door-to-door mobility and MaaS.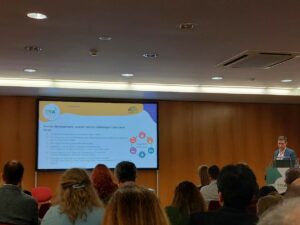 Guests included ITxPT (DATA4PT Technical Manager), INSTANT System, MobilityData and Sparsity Technologies. Key conclusions of this session were that intermodality of MaaS is the key to provide a real offer to citizens to reduce private car ownership. Furthermore, the integration of all mobility stakeholders must find a trustworthy ground to move forward together, followed by a standardisation of data exchanges for a quick integration, but also to allow roaming between territories.
IP4MaaS would like to thank all participants and speakers for their efforts and attention!